26 Jul 2019
- Alan Burge
The community remind you that we are providing a subsidized bus service this summer on Friday, Saturday and Sundays.
The bus cost 3e each way and can be used to travel multiple times a day to and from. Condado de Alhama, Camposol, Mazzaron Country Club, Mazzaron, Port Mazzaron and Bolnuevo
Tickets can be purchased online from Interbus
Or direct from Taquilla tickets, who are located at the Condado Club between J5 &J7.
---
We are pleased to announce that during the months of July and August a summer bus service will be provided from Condado de Alhama stopping at Camposol, Mazzaron Country club, Bolnuevo and Port Mazzaron. The bus will run 3 times a day on Friday, Saturday and Sunday with the latest return from Port Mazzaron at 23:00 and will be operated by InterBus.
In order to finance the summer bus service the community has signed an agreement with Mazzaron Country club and sought funding from the council of Mazzaron.
Tickets
Tickets from Condado de Alhama will be 6e return.
You will need to purchase tickets in advance. This can be done online via the Interbus website or on site from Taquilla tickets located at the Condado Club. Taquillia tickets are an approved InterBus agent and can sell tickets for the summer bus, as well as the bus from Condado de Alhama to the Airport and other InterBus routes. Taquilla tickets are open 9:30 – 13:30 each day and in the evening from 7pm in the summer.
Pickup and Drop Off
The bus will collect and drop off from between J5/7 and also the Canadas Main Bus stop.
J5/7 Bus Stop
The Stop between J5/7 will be from the main road adjacent to the tennis courts at the Condado Club. (This will be marked)
(NOTE: As there is no additional parking at J5/7 you are requsted to park at the AlKazar or Outer ring and catch the bus from the main stop at the Canadas gate if you intend to drive)
Timetable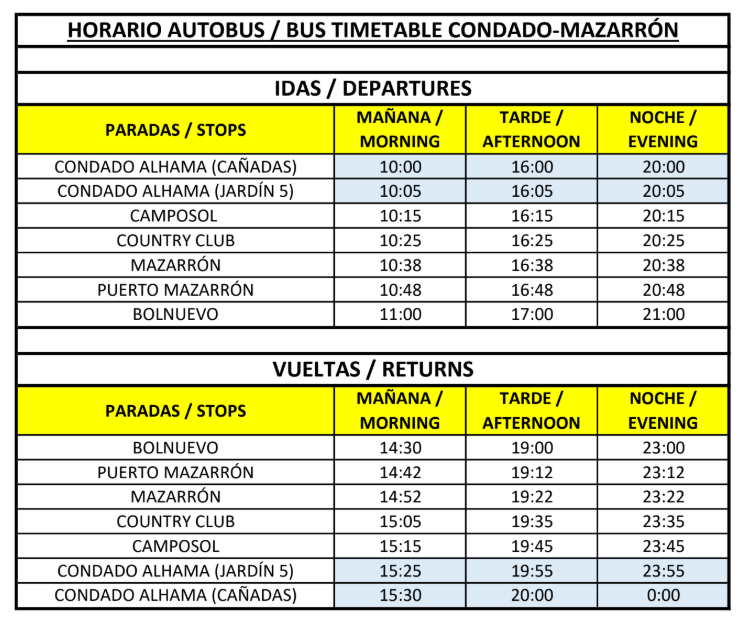 Viability of regular bus services
The success of the service will depend on the amount of users. The community will therefore do all it can to promote this summer bus service to make it a success and further demonstrate the viability of regular bus services to and from Condado de Alhama. This also applies to the bus service being currently provided 2 times a day from Condado de Alhama to the new Murcia International Airport which currently is only confirmed to run until October 2019.
We are also in talks with Alhama Council and will be able to announce a limited bus service to Alhama de Murcia in the summer, which will also be a paid service operated/engaged by Alhama Council. This service is planned to run on Tuesday for the Market day and also in the evenings only on a Friday, Saturday and Sunday and will be priced at 8e return (TBC).
In addition to the services above there also remains a number of Taxi/Private hire/Tour services available from Condado de Alhama.
Useful Links:-