31 Mar 2020
- Alan Burge
Correct as of 31-03-2020 (17:00) – source information Ministerio de Sanidad
The current information relating to Condado de Alhama is that only 2 detected cases of Covid-19 have been reported, and in both cases the individuals are in recovery.
In Region of Murcia at the time of writing there are 35 reported deaths which is 0.4% of the national total 8,189. Murcia also has the lowest number of cases per 100,000 inhabitants for mainland Spain over the last 14 days (58.71 cases for 100,000 people)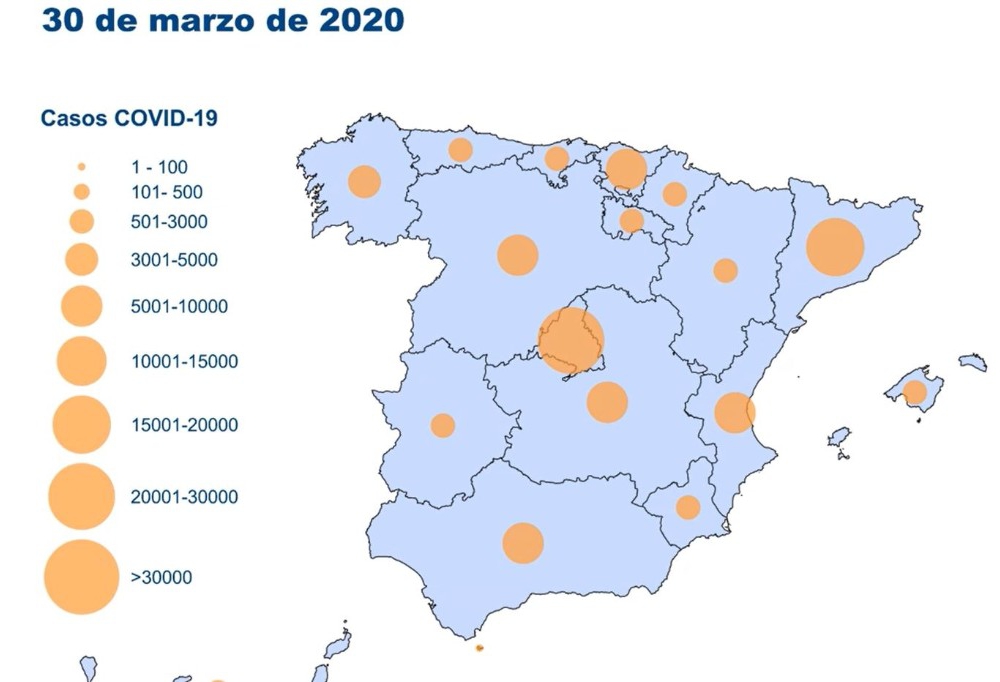 Click Image above to play video showing development of the virus during March
To protect us further there is now a complete lock down in place which includes the ceasing of all non-essential work in the Region of Murcia. Nobody should be entering Condado de Alhama or leaving unless it is an emergency, travelling for essential work or for basic essentials that cannot be obtained at the local Spar shop. For further details please click the link. https://condadoalhama.com/news/4967/information-regarding-the-work-activity-during-the-lockdown/
We would advise all those on Condado to remain at home and only travel if absolutely necessary. Security will be carrying out additional checks and there are many police road blocks outside of Condado. If you do need to travel outside of Condado this should be within the municipality of Alhama de Murcia.
There is almost no reason for people to be visiting Condado de Alhama at the moment. The bars and restaurants, golf course and other businesses apart from the Spar shop are closed. It is not permitted to come to Condado de Alhama even if you have a second home here or have a holiday/rental booked. You must remain at your primary residence. On this basis residents are asked to remain vigilant and report any strange activity direct to Security or admin for action. Those breaking the current lock down will be reported to the Police for action. To date the local police have been responsive and have issued fines and denouncias to those in violation of the rules.
Finally, there are a host of websites and Facebook pages providing information about the virus and the lock down in Spain. Some are useful, others are providing misleading or incorrect information. All information is available online. I would recommend that you seek information from verified official sources only.
Useful links from official sources:
This website provides updated information each day on the number of people affectedhttps://covid19.isciii.es/
Ministry of interiors - http://www.interior.gob.es/
Ministry of Sanitation https://www.mscbs.gob.es/
Murcia Health website http://www.murciasalud.es/