18 Mar 2021
- Alan Burge
Around 75% of properties have the new fibre installed which can provide high speed internet, TV and phone services.
On the 30th of April 2021 the old coaxial cable system will be switched off and you will only be able to receive Internet and Phone services if you have had new fibre installed. (Note: This will not affect the TV services)
Due to no new installations being requested and the restrictions in place in Easter 2021 preventing travel to Condado from outside of the region due to Covid, we have established an additional period for free installation of fibre between 15th July – 15th August 2021, in addition to the Easter 2021. Between 1st May -15th July, and after the 15th August 2021 you can still arrange to have the new fibre installed, but this will be a specific visit to your property from off-site technicians working for Cable Murcia who will charge 20e.
Originally, we had contracted Cable Murcia to install the new fibre in three periods (Summer 2020, Christmas 2020 and Easter 2021) when we expected most residents to be present. Due to Covid, things changed, and Cable Murcia have maintained a site presence from award of the contract until now, which has allowed them to install fibre to most inhabited properties
We encourage all owners who have not yet had their fibre installed to arrange this before April 30 so as not to lose the Internet signal, or have any delay or charge, outside the established periods.
Technicians will remain at Condado until the 30th April 2021 for, in most cases, same day or next day bookable appointments. After the 30th of April the next window for free installations is 15th July – 15th August 2021. Between May 1 and July 15 and after 15th August 2021 a charge of 20e is payable direct to Cable Murcia.
If you have had the fibre installed but no router yet, this can be arranged at anytime free of charge by contacting admin and is not affected by the dates and deadlines in this communication.
11 residents who have confirmed they are receiving Spanish premium channels via the old system will continue to receive this service uninterrupted.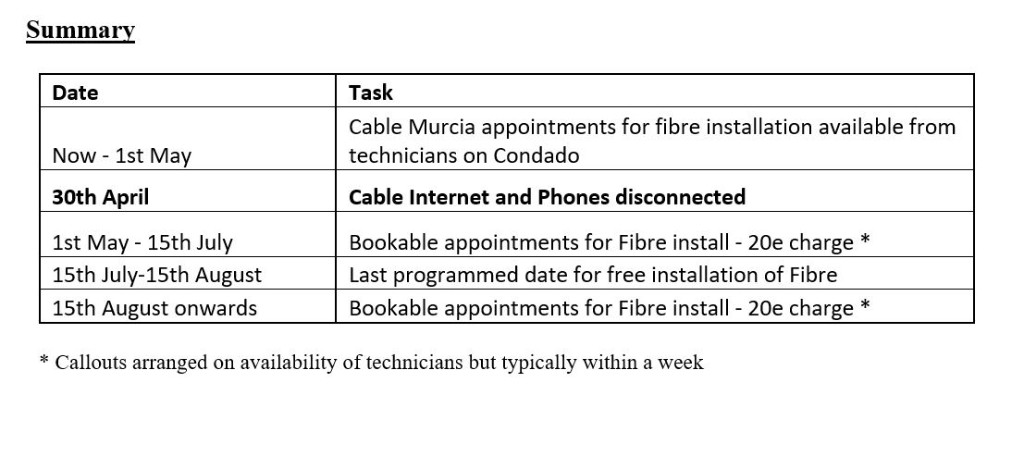 Alan@condadoalhama.com