Back
Business Directory: Condado Taxi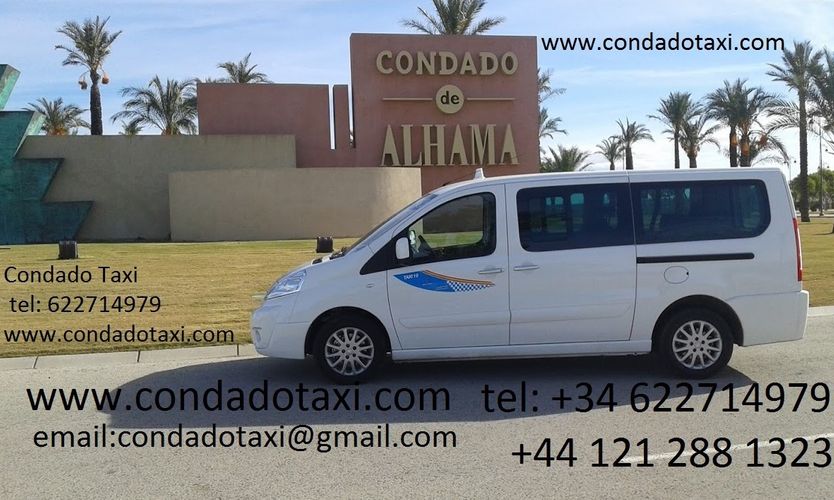 Condado Taxi
+34 622714979 / 868 979 937
+44 121 288 1323
Airport Transfer Booking form link please complete form for all transfers

http://www.tfaforms.com/322659 fers

Excursion/Trip Booking form link http://www.tfaforms.com/360683

Condado Taxi/Excursions is based on Condado de Alhama. We have a 7 seat ( 6 passengers) legal Taxi No 10 Alhama de Murcia. We are able to do airport transfers and pre booked journeys and trips. We are an English speaking service (Aprender español) . There are also 2- 9 seat minibuses ( 8 plus driver) for Excursions and pre-booked trips. They are registered and insured for Hire so are available for Private Hire under contract- please enquire if you have a larger group . Please see information about airports to show pick up point instructions for taxi and minibus as per our instructions from airport authorities

During the summer we do many airport transfers and trips to the Port of Mazarron from Condado de Alhama– day time and evening. Enquiries from other areas welcome – please advise us of your specific requirements.
When the weather is a Little cooler there is more opportunity to help you explore the region with day trips to Cartagena , Lorca and into the Mountains - the Monastery at La Santa being a favourite.
- GOLF GROUPS - long wheel base minibus available for transfer when you hire smaller minibus or car . More space for luggage when transfer to and from airport.
We have vehicles registered for public use and carry 50 million Public liability insurance, however we ask you to make sure you have personal goods insurance as we can not be liable for loss or damage of personal goods outside of our own insurance.
Golf groups can make use of the longer Wheel base minibus. Airport pick ups and drop offs save time
especially if its a few days golfing. The 19th is an important part of your day out and its always a bonus not to have to worry about drink driving
Our vehicles are Spanish registered tested and insured for Taxi or for hire. Please ensure you have hire contract and documents in vehicle and if not sure see documents that say "publico alquiler....... " and insurance is public alquiler and has 50 million public liability insurance.
It is the driver who is liable .